Medicare Part B is part of Original Medicare and helps cover services for doctors and other health care providers. You generally need to sign up for Part B when you are first eligible. If you don't sign up for Part B when you're first eligible, you may have to pay a late enrollment penalty. Here is a breakdown of Medicare Part B costs you can expect for 2024.
Part B Costs for Premiums
You pay a premium each month for Part B. Most people will pay the standard premium amount of $174.70 per month. If you are a high-income earner, then you may pay an Income Related Monthly Adjustment Amount (IRMAA) listed in the table below. IRMAA is an extra charge that is added to your premium. Medicare uses the modified adjusted gross income reported on your IRS tax return from 2 years ago to determine your IRMAA adjustment for the current year.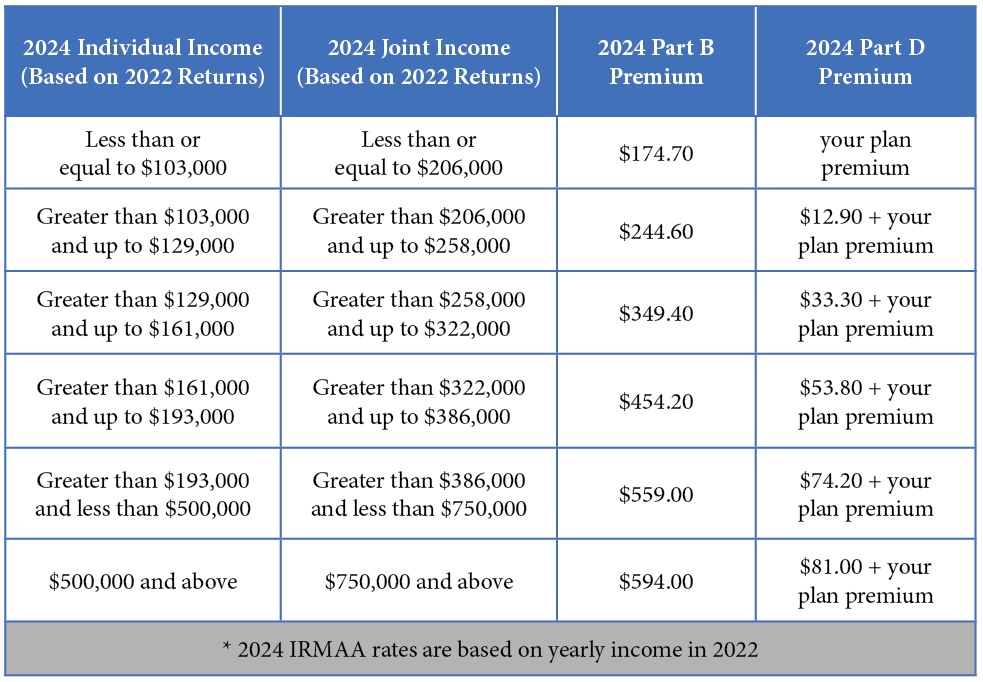 Part B Deductible & Coinsurance
Medicare Part B costs also include deductibles and coinsurance when you go to a provider. You will pay $240 per year in 2024 for your Part B Deductible. After you meet your deductible, you will pay 20% of the Medicare-approved amount for these:
Most doctor services (including most doctor services while you're a hospital inpatient)
Outpatient therapy
Durable medical equipment (DME)
If you want to compare costs of Original Medicare, Medicare Advantage and Medicare Supplements,it is recommended you speak with a licensed agent. We can help you compare costs and plans.
Part B late enrollment penalty
If you don't sign up for Part B when you're first eligible you'll have to pay a late enrollment penalty. You'll have to pay this penalty for as long as you have Part B. Your monthly premium for may go up 10% for each full 12-month period that didn't sign up for Part B. In some circumstances, you can delay your Part B enrollment without a penalty. Check with one of our agents to see if you qualify for a Special Enrollment Period, or for help calculating your Part B late enrollment penalty.
If you have limited income and resources, your state may help you pay for Part A, and/or Part B. You may also qualify for Extra Help to pay for your Medicare prescription drug coverage.
Have additional questions about Medicare Advantage, Medicare Supplement, or general Medicare questions? For more information, or to speak to a friendly, licensed agent contact us HERE.